2016, Tingari Cycle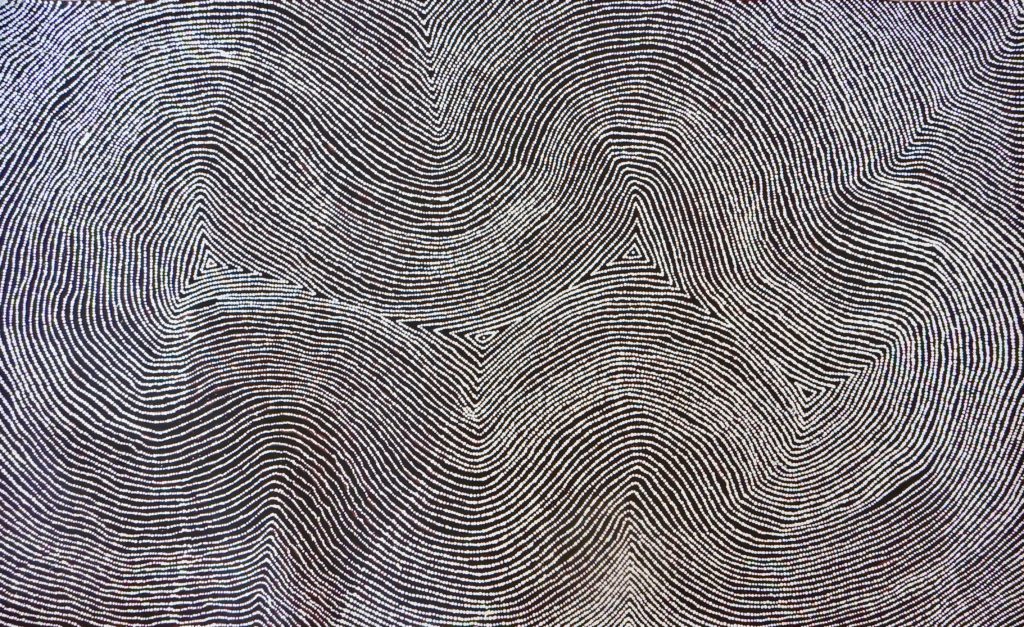 | | |
| --- | --- |
| FORMAT | 150 x 90 cm |
| AUTEUR | Warlimpirrnga Tjapaltjarri, c.1950 – Kiwirrkurra WA |
| ETHNIE | Pintupi |
| DATE DE CRÉATION | 2016 |
| STATUT | Non disponible à la vente |
L'OEUVRE
Warlimpirrnga décrit les Cycles Tingari sur ses terres ancestrales aux environs du Lac Mackay, pistes chantées relatant le parcours de Grands Ancêtres qui sont sortis de terre et dont les activités ont mené à former le paysage, la nature, ainsi que les lois régissant le peuple aborigène. Le contenu de ces histoires est sacré et ne peut être compris que par des hommes aborigènes initiés.
L'ARTISTE
Warlimpirrnga Tjapaltjarri est né dans les années 50 à l'est de Kiwirkurra dans le désert de Gibson. Il devient célèbre quand lui et ses frères (Walala et Thomas), ainsi que d'autres membres de sa famille Pintupi 'sortent' du désert en 1984. Jusqu'alors ils n'avaient connu que la vie nomade et n'avaient jamais eu de contact avec la société occidentale. Ils firent les gros titres de la presse Australienne et furent baptisés "les derniers nomades" ou 'les neuf Pintupi'. Les œuvres de Warlimpirrnga, souvent associées à celles de ses frères et sont exposées dans de prestigieuses galeries en Australie et à l'international, contribuant à sa renommée.
COLLECTIONS:
National Gallery of Victoria
Art Gallery of New South Wales
Musee du Quai Branly, France
The Kelton Foundation Collection, USA
Macquarie Bank Collection
Artbank
Griffith University Art Collection
Harvard Art Museum, Cambridge, Massachusetts, USA
Toledo Musuem of Art, Toledo, Ohio, USA
EXPOSITIONS RECENTES:
2017 On View, Olsen Gruin Gallery, New York, NY
2016 From the Western Desert, James Makin Gallery, Victoria, Aus.
2015 No Boundaries: Aboriginal Australian Contemporary Abstract Painting, Pérez Art Museum Miami, Miami, FL 2014 The 38th Alice Prize, Araluen Art Centre, Alice Springs, Northern Territory, Aus.